Crystal Ballin' the 2022 Real Estate Market
The real estate market in 2021 was, how should we put it…[email protected]#%&king bananas! With mortgage rates reaching record lows early in the year, supply shortages driving insurmountable competition and causing home prices to skyrocket, and many thirsty buyers willing to skip the usual steps such as home inspection, real estate in 2021 was like the Wild West.
So, as the calendar flips and you begin thinking about buying or selling a home in 2022, you are wondering what the housing market has in store. Well, housing market predictions are about as reliable as a weather forecast—no one can predict what's going to happen with 100% accuracy. But we can check out what real estate experts are saying and make some guesses about the future from there. Remember, a housing market forecast can only give you an idea of what to expect if you buy or sell a house in the coming months. Never let it control your housing decisions—only your personal situation and finances should do that!
Let's First Look Back at It
Well, 2021 was fun for everyone, right??? Ok, maybe not everyone, but the housing market sure had an outstanding year. With record low-interest rates, the strongest yearly growth in single-family home prices and rentals, historically low foreclosure rates, and the highest number of home sales in 15 years, 2021 was the best of times for the market. In 2021, homeowners saw a market in which their properties sold rapidly and frequently above the asking prices, as numerous home buyers fought for the winning bid.
What's In Store for Sellers in 2022?
Where are our sellers at?!?! Those looking to sell in 2022 should be feeling prettttty, prettttty, good. You may, however, want to put your house on the market sooner rather than later—while inventory is still low. (But only do that if you're truly ready to sell your house. Don't let the market be the deciding factor! No bullying!)
If you do decide to sell, you may have a little more competition in 2022 due to foreclosures picking up again and home prices rising. But the good news is that there are still plenty of buyers out there.
If you work with an experienced Somers Team agent, you'll be able to capitalize on home prices, navigate multiple offers, and find the right buyer. With an expert by your side, it'll be even easier to sell your house at a great price this year.
How About the Forecast for Buyers?
Well, it looks like you'll still need to bring your 'A' game if you want to buy the home of your dreams in this market. With more buyers than sellers, you'll probably be up against some heavy competition, high housing market prices, and maybe even a bidding war.
Another downside: Signs are showing that the low inventory issue is going to hang around for a while. Home inventory did increase a little last fall—rising to a nearly seven-month supply—but it didn't stay that way. At the tail end of the year, inventory tanked to just a 1.8-month supply. And while homebuilders are confident they'll do plenty of business in 2022, that doesn't mean buying a newly built house will be easy for you. Rising prices, supply shortages, and even government tariffs are all making it crazy hard for homebuilders to actually build enough houses to keep up with demand. Translation: The pickings may be slim when it comes to buying a house. That means you may have to give up some of your wants to get a house that has everything you need.
But fear not, dear friends—there's a bright side for buyers too. If you're getting a mortgage, interest rates are still looking as good as a cold ice wooder on a hot summer day—for now, at least. They're slooooowly inching up and will likely keep increasing in 2022 (thanks a lot, Federal Reserve 👎 ). Still, you'll probably have a good chance of locking in a lower-than-average mortgage rate. And for the record, lower rates are a good thing because they mean a lower monthly payment and less of your money going toward interest over the life of the loan.
How About the Philly Outlook?
Home sales in Philly have been vigorous during the pandemic, and that trend is expected to continue in 2022, with sales in the Philadelphia metropolitan area projected to grow 4.7% over 2021′s sales, according to Realtor.com. Homebuyers have remained interested in living in cities, including Philadelphia, despite predictions early in the pandemic that buyers would reject urban areas because of the health crisis.
The Rapid Pace of Development Will Most Certainly Continue
After a decade of rising prices, homes in Philadelphia sold like they were going out of style over the past year. But considering the below-average inventory of homes for sale in Philly, there has been heavy competition in the real estate market. The lack of housing inventory even pushed handy homebuyers to purchase fixer-uppers with the intent of remodeling older rowhouses throughout Philly. Developers certainly took notice of the rising prices over the past decade and have benefitted from the surge of activity this year. As such, more new construction and recently renovated houses should continue to hit the market in 2022.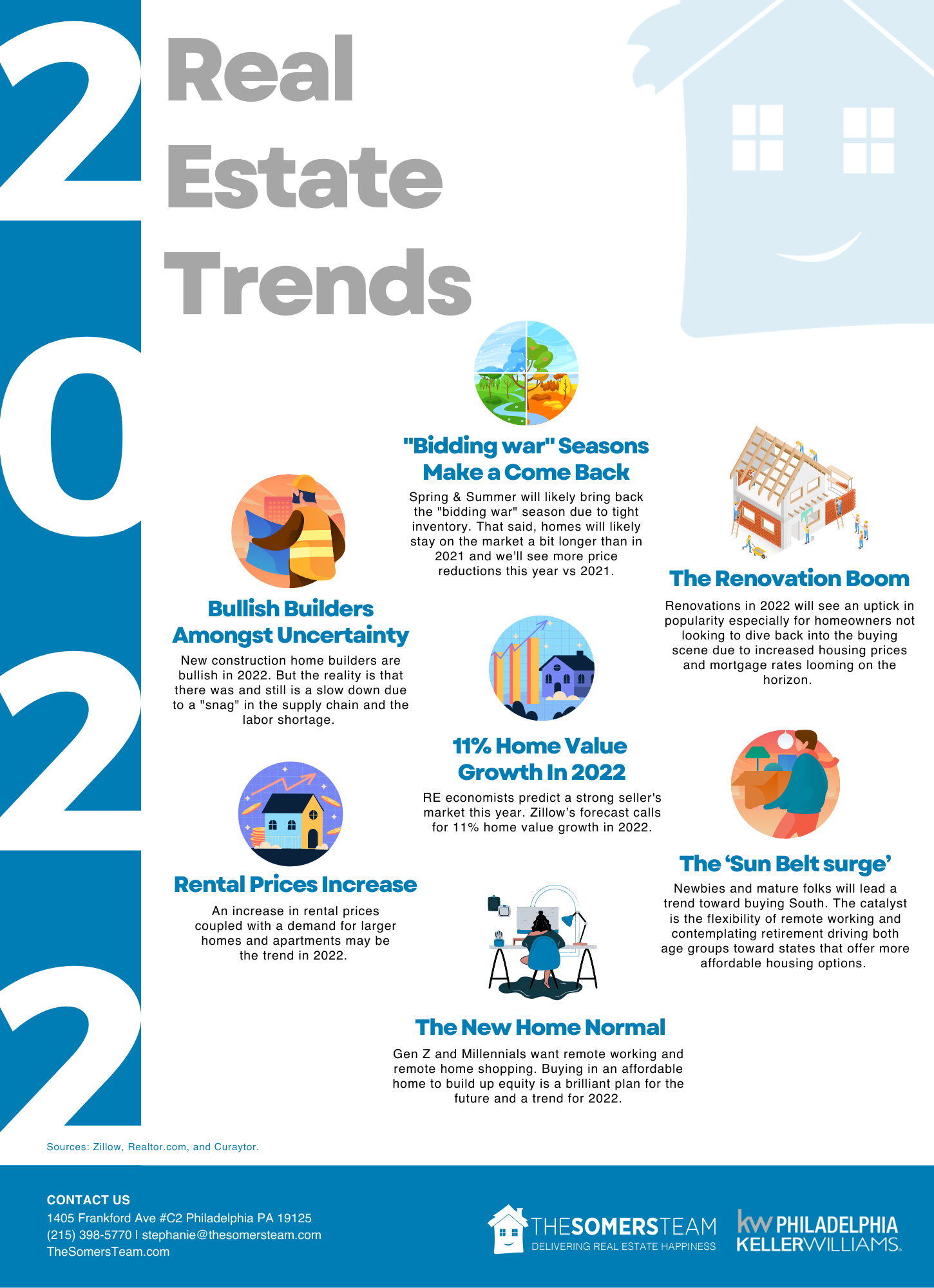 We Got You!
Whether you are looking to buy, sell, or invest in real estate in 2022, our team is ready to make your dreams come true. At The Somers Team, it is our collective goal to deliver an unmatched 5-Star Experience to each and every client. No two people or transactions are alike and we strive to tailor your home buying process to meet your needs and expectations.
Are you ready to talk to one of our superstar agents and begin your home buying journey? Contact co-owner Stephanie Somers today at 215.398.5770 to learn more!
Life's Next Chapter Starts Here
Sell | Buy | Invest | Develop