Think You Can't Afford a Sweet City Loft? You Can!
Owning a home is one of life's great milestones and the cornerstone of the American dream. But in today's economy, it can seem just out of reach for so many. But, with the right information and team, you can get the city life you want. The Somers Team is always looking for opportunities to help our clients achieve their wildest ambitions.
Now we've found an interesting opportunity for our creative class clients on an incredible loft with achievable financing. Our partner at Meridian Bank, Robert Plotnick, is offering with this amazing deal on our sweet, New York Style Loft listing 1220 Buttonwood!
Our Buttonwood pad is situated in the cosmopolitan Loft District, Philly's little SOHO.
Delivering Real Estate Happiness...
We love the Loft District so much so much because it embodies true city living. It's walkable to Center City, The Art Museum, and Northern Liberties. It's a biking, walking, city living dream! Sure to appreciate, it's a first time home buyer or investors urban paradise.
Where do New Yorkers choose to live in Philly when they want to feel like they are back in...




The key to buying a home is the ability to qualify for a mortgage and coming up with the down payment and closing costs. Having an involved partner developing personalized mortgage programs is critical to your transaction. Check out this comprehensive program made just for our Buttonwood Loft!
The Deets
3% down payment
No monthly mortgage insurance
No Income restrictions
3% Seller assist permitted
All money from buyer can be a gift
Buyer does NOT have to be a first time buyer
Buyer CAN own other property at time of settlement
We underwrite in-house
Robert Plotnick, the mortgage funds, and the papers are all at settlement on time.
Restrictions for this Program
Primary Residence 1 unit (no co-op)
If Condo, condo must meet Fannie Mae Guidelines
Gifts must be from family member
620 Min. Credit Score
This program is address specific – if property is not in acceptable location – then income restrictions apply.
Maximum 3% Seller Assist (up to 6% permitted if buyer puts down 10%)
ALL properties are eligible for 3% down / No Monthly Mortgage Insurance.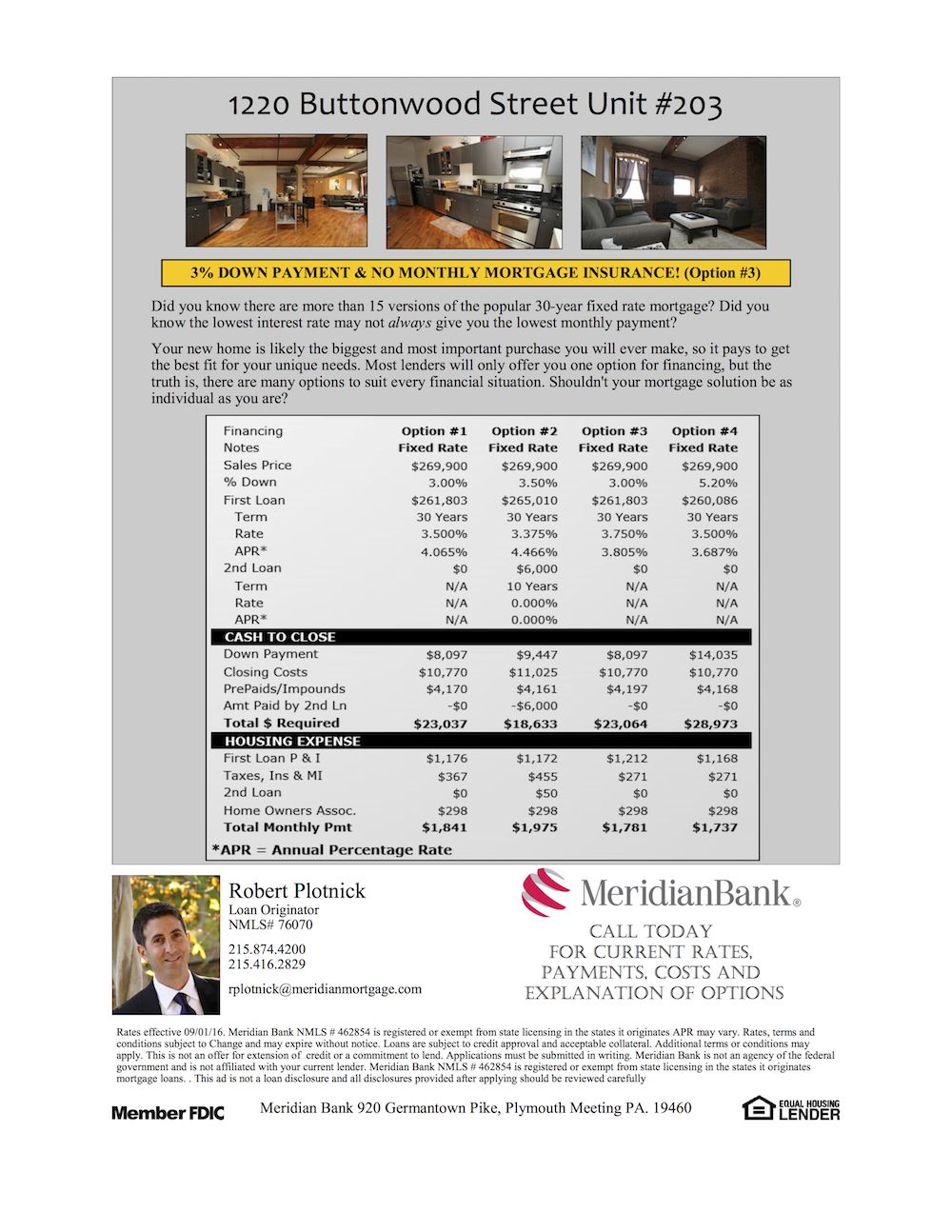 Download a copy to take with you!

Creative people need creative financing! Ask us about how you can take advantage of this rare opportunity.
~Income restrictions are individually considered
~This financing is available on most properties if you qualify.
~All mortgage programs have some restrictions.