The Cigar Factory | 1147-53 N 4th St 2A
Being a Gemini, (sign of the twins) there's no wonder I am a fan of the duality that is associated with the word conversion. I love things that can be complimentary and contrasting. Even being a realtor in Philadelphia is a reflection of my appreciation and affinity for renovation and renewal. When it comes to living spaces, I flip over homes that offer structure and endless possibilities. So when I received a call one day from a neighbor who asked me to check out her converted factory condo, I was beyond excited. I love those hot, open NYC style lofts. But little did I know I was walking into one of the most magical loft conversions I had ever seen! Allow me to introduce you.
Meet the Cigar Factory, located just off of North 4th St. and Girard Ave. You may have heard of it, or driven by it while visiting one of the neighborhood's amazing restaurants. It's a 6-story, substantial-looking brick building in Northern Liberties. It's close to all the hot spots in the River Wards districts, including the ever popular Frankford Ave. Arts Corridor. The Cigar Factory is a sizable factory conversion, which is not only a rare find in a high end neighborhood like Northern Liberties, it is also unlike any other condo conversion in the city. The Cigar Factory was renovated about 10 years ago, and was done with respect and thoughtful innovation that tastefully preserved the original factory's architectural structure. In turn, this conversion transformed an old factory and a piece of Northern Liberties' industrial era into a luxurious multi-unit condominium.
Watch the Stunning Video
My dear clients Orna and Reid seized the opportunity a few years back and brilliantly purchased two units at the Cigar Factory, combining them to create one magnificent home for their family. With the assistance of the architectural firm QB3 and the creative sensibility of Orna who is a designer herself, this trio reconstructed two wide open lofts into one warm and functional urban oasis literally doused in style. The home was publicly recognized in Philadelphia Magazine and Apartment Therapy.
Let me tell you a little about the interior. The condo's modern amenities pair perfectly with the original factory details. Unit 2 A and 2 B combined is an almost 3,000 sq ft masterpiece for those who love the natural duality of old world charm and sleek modern design. The structural bones of the old original factory make an impressive design statement throughout the entire living space. Natural light streams through an entire wall of 7' factory size windows, the original 11+foot high soaring timber ceilings, and solid wood beams lend strength as well as beauty throughout the condo, and the original exposed brick work are all part of that unique look only a warehouse conversion can provide. But the fine details woven into this masterpiece are what makes this 3 bedroom, 3 bath loft with 2 car parking a home impossible to recreate anywhere.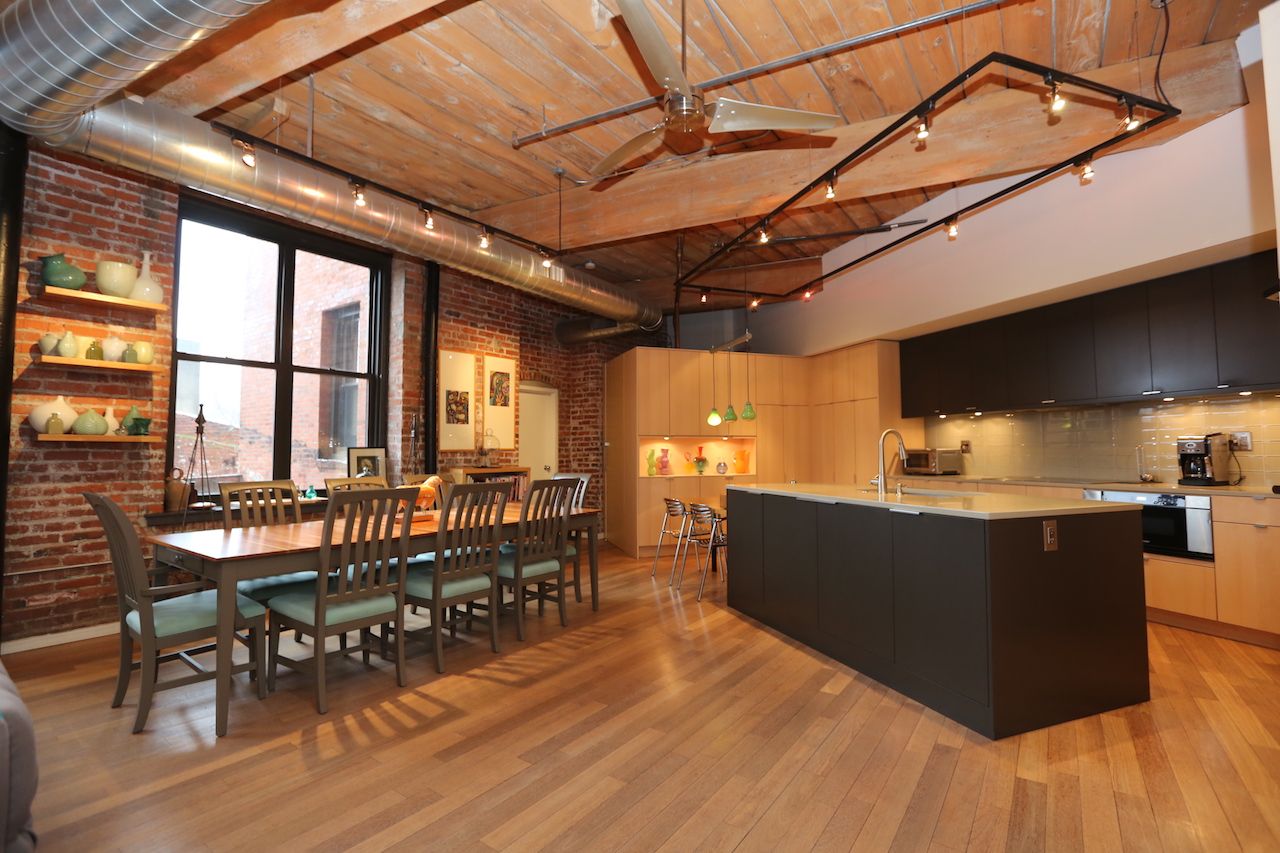 The warehouse conversion concept is not new to the Philadelphia area. There are a few scattered throughout the city and many are artist studios or apartments. You may know of the Crane Arts Building, Paper Box Studios in South Kensington, and the Paper Mill Studios in Kensington, to name a few. But most of the factory conversions suitable for consumers to buy as residential condos are peppered throughout Old City and clustered in the Loft District; which is largely surrounded by active industrial buildings between Center City and Northern Liberties. Loft condos make up of a small percentage of the inventory available within a quick drive or Uber ride from Center City, Philadelphia.
The most common features of a factory conversion is the industrial feel, and that there are no designated bedrooms.. Bedrooms are created with floating walls or furnishings chosen by the individual unit owner. These large raw spaces are much like a huge blank canvas awaiting the artist's personal inspiration. The current real estate market values for 2 bedroom raw space, factory conversion condos with 1 car parking fall somewhere in the $300-$350/sf price range.
I can go on and on boasting about the state of the art kitchen, the never ending, custom cabinetry and built-in shelving absolutely everywhere, the music room, the TV room, and the enormous custom work space that you must see to believe, the huge bedrooms and closet space… but I won't. I'll just invite you for a tour and in the meantime you can check out our video. You never know, you may become a convert like me!
Full Listing: