The One Big Mistake Ruins New Real Estate Investor
It's 2020 and you have decided you want to a be real estate investor. After reading "Under 100K Properties. 2020's Next Hot Neighborhoods" your bank has agreed to help you with your 100K purchase. Maybe you have 100K cash. In any case, you are ready to make your dreams come true. You have dreams of increasing your income, retiring early, or maybe you are just planning to afford to send your kids to college. Whatever goals you have, you must avoid the one big mistake that ruins the new real estate investor.
The mistake is the false belief that you will become wealthy on your rental income. Unless you own a lot of homes outright with no mortgage, or dozens of units, rental income is not where your wealth is found. New investors make our money when we buy low and sell at a higher price later. It's the gained equity over time that is the winning goal for newer and smaller investors. You can make absolutely make those dreams come to fruition when you have your beliefs and goals aligned with the equity model for personal wealth.
Let me break it down for you using the under 100K acquisition.
Winning Recipe
I'm no Betty Crocker but this easy to follow, the no-nonsense recipe is sprinkled with a healthy dash of secret ingredients that will whip you into a successful investor in Philadelphia.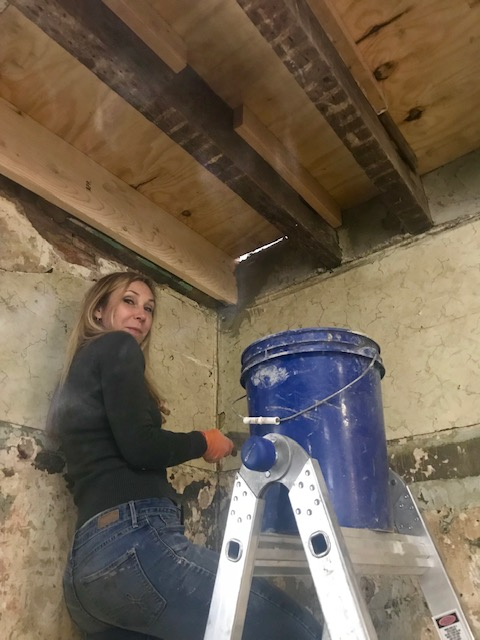 Fix it
If I can do it so can you. The photo here is me filling in some mortar. Like me, do the best job you can on a budget and add little elbow grease. When you buy a property under 100K, there is a good chance it will need work. When prioritizing repairs make it functional and safe. Also, add laundry and a dishwasher if you can afford it. Quality of life items manifests quality tenants and a better resale price later. Service the heater, plumbing and electric. Fix windows and the roof. Make it attractive. A beautiful home sets the standard for the tenants, improves the neighborhood, and increases the value.
Rent it
Choose a slightly lower than average rental price. Sometimes $15-$25 makes all the difference between having a month or two of vacancy, which is a much larger loss than a few dollars a month. Remember the rent is not your key to wealth, it is the property. Don't step over dollars to pick up dimes.
Hold it
Keep the home in good shape during your ownership and do not be an absentee landlord. Show up, check it out, make needed repairs in a timely fashion, and make sure the tenants are taking care of your home. Setting a standard with house rules may seem like a burden but if you value your investment, impart that sensibility to the tenant who is not just occupying your home but promising to respectfully care for it for at least a year. Make your expectations clear.
Sell it
Check the market comps every year. For example, If you can make a profit in year 3, you may want to cash out and buy other properties. Or pull out some equity and build a larger rental portfolio. Lots of options. All good. If there is a drop in the market, no problem. Maybe you need to hold it longer, your retirement dreams are a few years off and you may not even have kids yet! Patience pays. As you know, real estate is the most resilient investment out there. It's best to present your investment in it's best condition. Therefore, when it is time to sell, have the property vacant, fixed up, and prepped for the sale. You will probably be passing on your home to a homeowner or a new investor like you were when you started.
Within a 3-5 year span of time, investing and improving homes in these under 100K neighborhoods will be rewarding financially but more importantly, as an investor, you are also making the neighborhood a much better place for the people of Philadelphia to live.
Invest well and remember this one thing. You make your money when you buy low and sell at a higher price later.
Contact us for the full list of under 100K listings.